The Real Story On Hunt Brothers "Cornering" The Silver Market.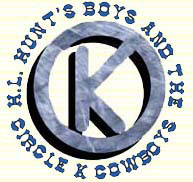 Larry LaBorde
Back in the 1980's some of you may remember that a Texas oil dynasty tried to buy a little silver in between their oil deals. The tale of H.L. Hunt and his family (at one time possibly the richest family in the US) is the stuff of legends in the South. While this is the story of the silver deals of the sons of the 1st family a little family background makes for a better story.
Mr. H.L. Hunt was born in Illinois where his father moved after the Civil War (or War of Northern Aggression as we like to call it) to escape the hardships of reconstruction. H.L.'s father was becoming quite prosperous in Illinois but H.L. hit the road and traveled out West at about age 16. He worked as a dishwasher, a mule team driver, a logger, a farm worker, tried out for semi-pro baseball, poured concrete on a construction crew but most of all gambled at cards. H.L.'s father died when he was 22 years old. He went home, collected his inheritance and shortly thereafter moved to Southeast Arkansas to try his luck with cotton farming.
The Lake Village, Arkansas days turned from farming to land speculation and more gambling. He met and married his first wife there, Lyda Bunker. Shortly afterwards news of the Smackover Oilfield in nearby El Dorado, Arkansas reached Lake Village and H.L. promptly took advantage of the boom times. As soon as he got off the train and looked around he told his companions, "All I need is a deck of cards and some poker chips". H.L. made money gambling at cards and eventually started drilling for oil. His first well was successful. He eventually moved his wife Lyda and small family to El Dorado and began building up his "poor boy" drilling company.